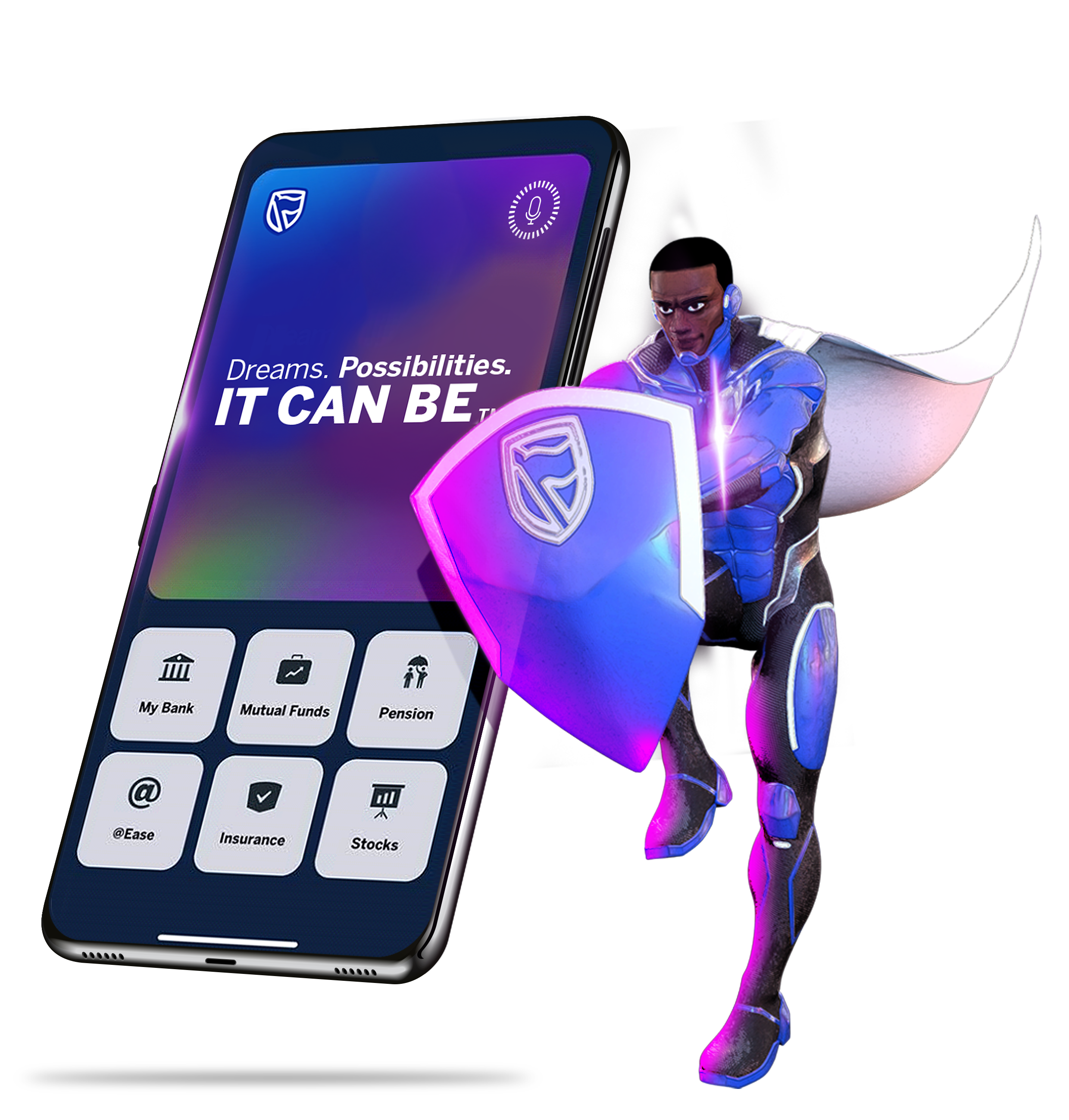 DOWNLOAD THE STANBIC IBTC MOBILE APP
Try our great Digital Banking Services. Enjoy innovative services like...
Introducing voice banking - Bank as quick as you speak.
Invest like a hero - Make smart investment with a few taps.
Rescue tomorrow - Track your pensions on the go.
Peace of mind in your pocket - Insurance packages at your fingertips.
Trade like a legend - Monitor your stocks anytime and anywhere.
An electronic wallet for easy banking - Meet every financial need with ease.
Choose your preferred solution
Choose from our array of banking and online solutions designed to help you live and transact with freedom whomever you are, wherever you are
Some of the benefits
Security
Bank with us in the knowledge that your funds are safe.
Flexibility
Bank accounts that are designed to suit your financial needs.
Mobility
Transact from anywhere with our online and mobile banking platforms.
Global
Access to international currency accounts.
SEE WHICH SOLUTION SUITS YOU BEST
Media Page
To view or download our logo's for media purposes, financial reports and service charter.
Stanbic IBTC Bank identifies growth opportunities for SMEs
Stanbic IBTC Bank Nigeria PMI: New order growth quickens to 17-month high in June
General News
1 April 2021
Stanbic IBTC Bank Launches It's SMS Banking Solution With Funds Transfer, Bill Payment Functionalities 
Bank News
18 February 2021
Stanbic IBTC Boosts Nigeria's Agriculture Sector with Low-Interest Agro-Loans
Stanbic IBTC Sponsors Alternative Agriculture Equipment Trade Show 2021
Disclaimer: Re: 'Tingo Announces New Payments System'
Bank News
16 September 2020
Alleged Abule Egba ATM Fraudster is not a Stanbic IBTC Bank Staff
Bank News
30 September 2020
Impact of Covid-19 on Nigeria's Economic Outlook in H2 2020.
Bank News
10 November 2020
Interview with Ojinika Shote, Head of Cash Management at Stanbic IBTC Bank PLC
Nigerian Businesses Need To Position Themselves For Greater Challenges Ahead
Nigerian Businesses Need To Position Themselves For Greater Challenges Ahead
General News
15 June 2020
Stanbic IBTC announces Executive Management Promotions
Stanbic IBTC Bank Offers Customer Relief Initiatives
Stanbic IBTC donates to Abule Ado emergency relief fund
Bank News
3 February 2021
Stanbic IBTC Empowering Female Start-ups - Founder Institute
Bank News
2 September 2020
Stanbic IBTC Institutes Scholarship Awards For Nigerian Undergraduates
Stanbic IBTC Joins OPS in Fight Against COVID-19
Stanbic IBTC Launches Blue Blossom Account for Women in Business
Stanbic IBTC Partners FATE Foundation To Set Up More COVID-19 Treatment Wards
Stanbic IBTC Retains AAA, F1 Fitch National Ratings
Stanbic IBTC Urges Nigerians To Make Safety Paramount In The Wake Of COVID-19